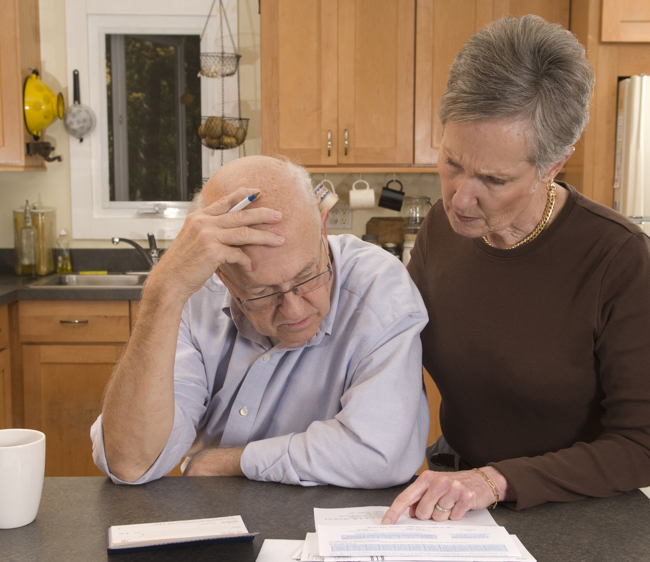 Hospice patients by the thousands are facing delays in Medicare insurance coverage for their chronic ailments, often forcing families to pay for expensive drugs out of pocket.
Patient advocacy groups and a majority of members of Congress have called for changes in a new Medicare policy requiring advance approval before drugs can be covered by insurance.
When patients enter hospice coverage-meaning doctors say they are expected to live six months or less-they stop taking medications for treating their terminal illness. But Medicare Part D still pays for other drugs for unrelated condition. For example, someone dying of lung cancer might also have high blood pressure and osteoarthritis. The blood pressure and arthritis drugs, prescribed some time ago, have been routinely covered by insurance under Medicare Part D.
But the federal policy, imposed in May, forces the patient to get a new prior authorization from the insurance company to get coverage for the drugs he had already been taking. The result is that hospice personnel and family members are spending hours on the phone trying to persuade insurers to cover the medications. Some patients are dropping out of hospice programs.
The new policy was developed because an Inspector General's report  at Medicare said some hospices were improperly billing for medications. The government response was to adopt a tougher rule for hospice patients to get medications under Part D.
CMS has overreached and put beneficiaries at risk, said David Lipschutz, a senior policy attorney  with the Center for Medicare Advocacy.  The policy "causes needless suffering because patients are caught in the payment dispute between part D providers and hospice," he said.
A CMS spokesman said in response to  e-mailed questions, "We don't have any comment on this other than to say that we're listening to stakeholders' concerns."    Here is the CMS  March 2014 guidance memo on the issue.
Examples of the impact of the new policy were provided to HelpwithAging.com by the National Association for Home Care & Hospice. These are summary reports from  individual hospices.
Cadillac, Michigan. "Client on hospice for colon cancer; being denied insulin which is NOT related to the colon cancer and is NOT paid by the Hospice for the palliation or symptom management of colon cancer. Delay in getting insulin to the patient and an out of pocket expense of $373.75 for a 25-day supply of insulin."
Cincinnati, Ohio. "Part D would not approve the meds and the pharmacy would not refill even though the PA [prior authorization] form was completed. Patients ran out of their medications and will go to the hospital."
Oklahoma City, Oklahoma.  "Patient is on hospice for tongue cancer. He has COPD and uses Symbicort and Proair. He was unable to refill these meds…. Hospice sent PA [prior authorization] to [insurance company] they would not accept it… meds were prescribed by PCP [primary care physician.] Pt [patient] went without these Rx's for a week. This incident caused undue stress to the pt and his family, not to mention physical ailment from going without meds for a week. This took up a significant amount of time for the hospice on repeated phone calls, paperwork and faxes."
Wallingford, Connecticut.  "This patient is unable to receive his medication that controls his high blood pressure and he is now at risk for a stroke. He also has been unable to get his GERD medication and he is having pain."
Evansville, Indiana. "Patient was without her thyroid medication and reflux medication for over a week. The patient failed to tell the hospice nurse this on the first few visits after being out, thinking she would be getting them within a day or two. Pharmacy did not contact the hospice to request assistance with the PA [prior authorization] but instead contacted the physician's office, who took multiple days to process the PA [prior authorization]."
"You do not want to want to put people through this when they are dealing with life and death issues," said  Theresa M. Forster,  vice president for Hospice Policy & Programs at the National Association for Home Care & Hospice. "This is not something that anybody  wants to go through at any time. You do not want to add  to the burden of what these folks are dealing with at this time."
CMS was asked to withdraw its current prior authorization guidance  in a letter circulated by the Hospice Action network and signed by 202 House members and 75 Senators. And a wide variety of organizations, including AARP and the American Geriatrics Society, also  asked Medicare for  temporary halt in the prior authorization policy.
"CMS has heard from a broad array of stakeholders, both individually and collectively," said  Jonathan Keyserling, executive director of the  Hospice  Action Network, the advocacy affiliate of the National Hospice and Palliative Care Organization.  Hospice patients, he said, "are confused, confounded and being denied necessary medications.  Given that these patients and their families are already experiencing all the pressures and complexities facing the end of life, far too many are opting to either dis-enroll from hospice, or not enroll at all."
There are several ways for families to deal with the delays in getting drug prescriptions  filled, according to Casey Schwarz , policy and client services counsel of the  Medicare Rights Center.  The family should be seeking the prior approval  from the Part D insurance company at the same time the hospice is dealing with the insurer. Family members also should notify  all of the patient's doctors "that they have elected hospice and that medicines related to the condition will now be provided through the hospice provider," Schwarz said in an e-mail interview.  They should contact the doctor who first wrote the prescription and ask that physician to call the Part D insurer "to satisfy the prior authorization" rule, she said.