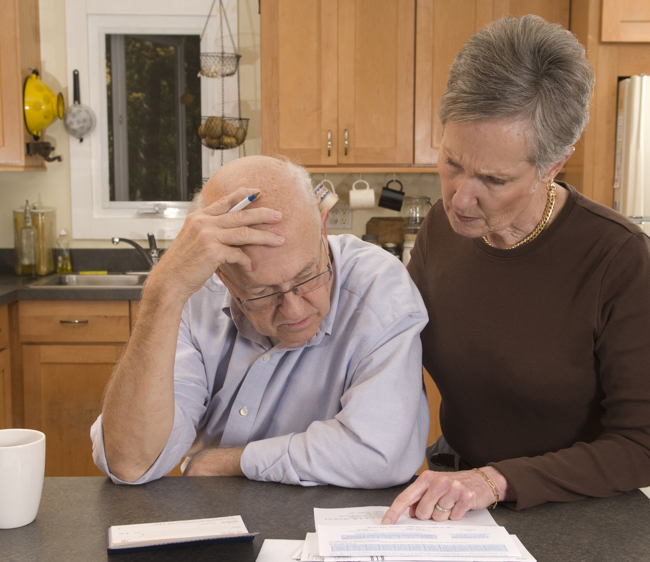 Cancer  care is costly. Many patients struggle with their bills; some of them skip taking medicine because they can't afford to pay for the prescriptions.
About two-thirds of cases are diagnosed in people over the age of 60.
The Medicare Part D prescription plans  pose serious problems for people with cancer, whose treatment often calls for costly specialty drugs. These go on a "specialty tier" for pricing, with co-payments of 25% or more of the cost of the drug. With some cancer drugs costing $50,000 a year or more, this can create a huge financial burden.
A study in the Journal of Oncology said 46% of Medicare beneficiaries who took cancer drugs had co-payments of more than $500, compared with just 11% of people with regular private insurance. Prices were so high that 16% of Medicare cancer patients didn't fill a prescription for a cancer drug, compared with 9% of people with regular insurance. Medicare is for people 65 and older. But for cancer patients of any age,  the financial burden of paying   for treatment and medication can be intense.
And the situation is only going to get worse. Many oncology doctors are leaving their practices, as the government cuts back on their payments for drugs. Sometimes the doctors will join their practices with hospitals, which can get more money for the same drugs the doctors were dispensing in their offices. The extra payments mean the patients will pay more.
Helpwithaging.com has  assembled here from many sources  a variety of guides, sources and tips to help you pay for cancer  care. If you have any others we should know about, send us the information.
The National Coalition for Cancer Survivorship prepared a guidebook,  "What Cancer Survivors Need to Know About Health Insurance".
The Cancer Legal Resource Center  (866 843-2572)   a project of the Disability Rights Legal Center and Loyola Law School in Los Angeles has prepared a comprehensive guide to financial aid.   Here is the full list of  27 sources of  financial aid for people with cancer.
A  good article by Debra Sherman at Reuters has more tips to get financial help.
Housing for patients and family can be expensive when you travel away from home for treatment.  The American Cancer Society operates 31 Hope Lodges. "Each Hope Lodge offers cancer patients and their caregivers a free place to stay when their best hope for effective treatment may be in another city," according to the ACS.
Another lodging guide is Joes House, hotels located near medical centers, offering  discounts to cancer patients  and their families.
Cancer.org has a wide-ranging  resource list finder where you can look in your state or city for information on financial aid, local support groups and transportation.
Cleaning for a Reason pays for house cleaning for cancer patients.
Cancer Financial Assistance Coalition  is a coalition of organizations helping cancer patients manage their financial challenges.
A group of 19  patient and advocacy  organizations,, including the Leukemia & Lymphoma Society compiled a cancer insurance checklist.
The American Cancer Society and the ACS Cancer Action Network produced a consumer guide to the Affordable Care Act.
Social Security Disability Payments
You can collect disability if you have an illness making you unable to work for a year, or if you are diagnosed with a terminal condition. But there is a big backlog of applications, with some people waiting two years to find out if they qualify. Social Security has created a compassionate allowances program, with a list of more than 200 diseases, including some cancers, where the disability applications are reviewed and benefits granted quickly. The  Social Security Administration says it has "an obligation to provide benefits quickly to applicants whose medical conditions are so serious that their conditions obviously meet disability standards."  Get information here:
Your Rights at Work
Want to know about your rights on the job when you have cancer? The National Coalition for Cancer Survivorship does a good job of explaining federal law (the Americans with Disabilities), and its safeguards for you.
Medicare Part D helps pay for drugs for millions of cancer patients.
Worried about whether your Medicare Part D plan will cover the costly drug your doctor just chose for you. Q1Medicare.com offers a tool to search plans to see which one covers your medications and how much you will have to pay.