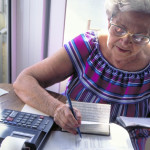 When you think of filing for Social Security, don't just think about yourself and how big your check will be. Think of your spouse, and what happens when you die.  That is the lesson men should take to heart.
Then it becomes a strong argument to wait as long as possible to collect benefits, to give your spouse the biggest possible financial security after you are gone. If you can afford to wait, do so.
Women live longer than men, spend fewer years in the labor force because they are caring for children, and later for their ill husbands. They make smaller salaries, which leads to smaller pensions, and lower Social Security benefits. For men 65 and over, the average income in retirement from all sources (Social Security, pensions, savings) was $37,509. For women, it was just $21,519.
A widow  can collect the full Social Security retirement benefit her husband has been receiving, after he dies. This survivor's spousal benefit can help give her economic security. It's like life insurance. The longer her husband waited to collect Social Security, the bigger survivor's benefit he can leave for her after he dies,
Take Samantha and Isaac. He is entitled to  $1,800 a month at his full retirement age of 66. If he waits until age 70, he gets a bonus of 8% a year. He doesn't have to work. He simply has to wait. At age 70, he collects $2,376 a month.
Samantha has been collecting a spousal benefit of $900 a month, or 50% of Isaac's benefit.  He was getting $1,800, so their family Social Security income was  $2,700 a month.
Isaac dies, and his payment becomes a survivor benefit for Samantha. She now collects $2.,376 a month.
If Sam had retired at 62, the earliest he could take Social Security, his retirement benefit would have been just $1,350 a month, and Samantha would have become a much poorer widow.
This is an important factor for couples to consider when they talk about retirement and Social Security. A husband should not think just of how eager he is to quit work and get a Social Security check. He should think of his wife's economic security when he is gone.
Women live longer than men, have smaller pensions, and smaller savings accounts. At age 60, the average life expectancy is is 23.8 years for women, going to age 84, and 20.6 years for men, rising to age 81.  This means the average woman is likely to live at least three years longer than the average man.
The poorest people collecting Social Security benefits are elderly widows, often in their 80s. They have exhausted their life savings, and the pensions they are their late husbands had been collecting have been eroded by time and inflation. The typical pension is not adjusted for inflation. Social Security, in sharp contrast, always keeps up with inflation through the annual cost-of-living increase.
If you start drawing a benefit at age 70 and live to 100, your purchasing power will remain intact.
That is why it's important for the spouse-and this usually means the man-with the bigger income and shorter life expectancy-to wait as long as possible to begin drawing Social Security. That means his is giving his wife the better odds that she will have adequate income after he dies.
Only 42%  of women age 65 and older are married (2009 figure), compared to 72% of men, according to a Met Life study. Widows far outnumber widowers, 8.9 million women over 65 are widowed, compared with 2,1 million men.
Living longer means women will have bigger medical bills during their lifetime, an average
In summary, older women are far more likely than men to be shouldering the costs of retirement and later life on their own. Over the life course women have significantly higher health care expenditures than men ($361,192 vs. $268,679). . For those who have survived to age 60 today, the average remaining life expectancy for women is 23.8 years, to about age 84; for men, the remaining life expectancy
is 20.6, to about age 81, 11 or a three-year advantage for women.
"Women in the U.S. live extra-long lives (8% longer than men on average), and these "bonus" years may be a blessing of extra living, but also have their costs, including that women's resources must last an extra-long time.<" according to the study by Met Life and the Scripps Institute of Gerontology. "Women's lives are also extra-complicated by some very particular susceptibilities and risks. First, they are more likely than men to age solo, that is, to be widowed, divorced, or otherwise live alone, shouldering the costs of retirement on their own. Second, over the life course they have significantly higher health care expenditures and more than half of their higher total expenditures is explained by their longer lives."
The study we have produced a "Woman on the Street" video where women express their opinions on retirement preparation.
Watch the video
https://www.metlife.com/mmi/research/video1.html